Companionship & Assistance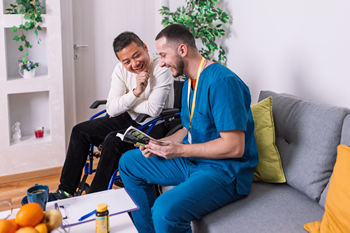 Companionship & Assistance
Errands & Shopping
Laundry Assistance
Escort to Events or Appointments
Medication Reminders
Meal Planning
Household Organization & Light Housekeeping

Gaddiel Home Care Services, Inc. is Licensed and Insured and has been serving clients since 2014.  We service all ages 18 and older and personalize each client's care plan to fit their needs.
At Gaddiel Home Care Services, we understand that companionship and assistance services play a vital role in the well-being of our clients. We believe that every individual deserves to have someone they can rely on for emotional support, social interaction, and assistance with daily activities.
Our companionship and assistance services are designed to help our clients maintain their independence, stay engaged in their hobbies and interests, and enjoy a higher quality of life. Our caregivers are carefully screened, trained, and matched with clients based on their personality, preferences, and needs. They provide a range of services, including meal preparation, light housekeeping, medication reminders, and transportation to appointments and social events.
In addition to practical assistance, our caregivers provide emotional support and companionship, engaging in conversation, playing games, and participating in activities that our clients enjoy. Our goal is to create meaningful relationships with our clients, helping them to feel valued and connected to their community.
If you or a loved one could benefit from companionship and assistance services, Gaddiel Home Care Services is here to help. Contact us today to learn more about our services and how we can assist you.